Just a few days ago, we released the new version of our system, ELMA 3.9. Let's take a look at the new capabilities and features.
In version 3.9, we aimed at increasing the system performance, operation speed and response time. ELMA implementation projects comprise many business processes, and as a result, many users work in the system at the same time. We managed to increase the system performance by optimizing cache operation and business process execution.
Load testing has shown that ELMA 3.9 completes almost twice as many operations in the same amount of time as the previous version.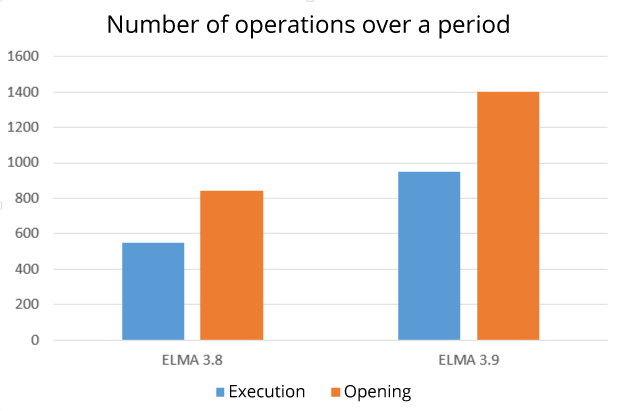 ELMA ECM+ Application
As far as ELMA ECM+ is concerned, we mostly worked on enhancing the existing capabilities:
EQL search in now available in the Documents section, meaning that you can create a filter with criteria other than given in the basic filter adjustments.
In the Records Management section, the automatic publication of the Records Classification Scheme has been upgraded. Now, it can be set to trigger automatically on January 1 of every year.
For even easier process modeling, new Document Management activities were added to ELMA Designer.
ELMA CRM+ Application
ELMA CRM+ has experienced some major changes.
Firstly, we modified the Contractor and Lead categories and access to them. Now they are managed in one place, in the "List of Categories" object. This makes access distribution a lot easier and faster. Also, we added an Access tab to the Contractors, Contacts, Relationships, Leads and Deals forms. In this tab you can manage access, view the permissions inherited from categories, and limit access for each user individually.
Now, in version 3.9, you can also adjust access permission to certain object fields. This way, you can make them invisible to the users without actually restricting access to the object itself.
ELMA Projects+ Application
In the new version of ELMA Projects+, we deliver quick project plan editing in Mindmap mode. The edit form now has a new Task Hierachy tab.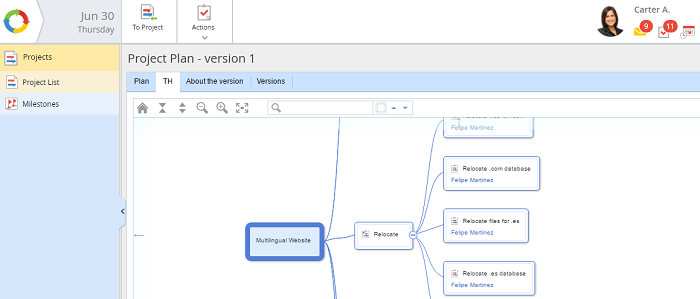 Now you can easily add sub-tasks, highlight, edit and delete tasks.
New Possibilities for System Improvement
ELMA 3.9 offers many ways to improve the system in ELMA Designer. Some new features make business process modeling fast, simple and easy to understand.
We added two new form elements to Form Builder: Row and Button. They considerably expand the capabilities of the system:
Button allows you to add an object that opens a link or starts a script when pressed.
Row allows you to create a user representation of a property создать пользовательское представление свойства.
In version 3.9 we modified the export and import of configurations by adding a new step, review of imported data. Also, you can now upload razor forms and some parts of the KPI model.
More
Messages Archive
The Messages section contains a lot of useful information and must be able to work fast. Sometimes in large companies, too many messages are sent around significantly slowing down the operation. We solved this problem in ELMA 3.9: after a certain period, all the messages go to the archive.
Substitutions
When an employee is on vacation leave, the work of the department or company should not slow down or stop. In version 3.9, you can manage the access permissions for tasks and documents in the Substitutions section so that the work is distributed efficiently.
Absence
The new Absence portlet quickly shows all the absentees over a certain period. Now the managers can always stay informed about the absence of employees.
Full Text Search
Full text search is now available in the Contractors section, allowing you to search not only by a contractor's name but also by attributes and attachments.
Of course, this is not a complete list of changes, there are a lot more. For example, you can now send out a list of object instances of a process, copy active tasks and perform other activities aimed at faster operation and ease of use of ELMA.
You can update to version 3.9 if you are using version 3.8 and have an active maintenance agreement.
The English demo version of ELMA 3.9 will soon be available on our website.